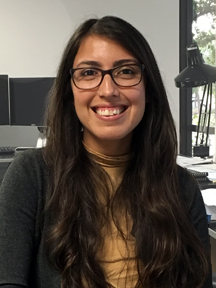 EDSA Minority Scholarship Winner
The Landscape Architecture Foundation (LAF) has awarded a total of $59,500 to 10 outstanding students for its 2017 scholarship season. The scholarships and fellowships support the next generation of designers by rewarding superior student performance, encouraging diversity, supporting original research, and assisting students with unmet financial need. The awards are made possible through endowments established by generous sponsors. Congratulations to the 2017 winners!
EDSA Minority Scholarship: Anjelica Sifuentes, BLA Candidate, Louisiana State University
The EDSA Minority Scholarship was established to help African American, Hispanic, Native American and minority students of other cultural and ethnic backgrounds continue their landscape architecture education.
Anjelica is originally from San Antonio, Texas where she grew up surrounded by the rich culture of her Mexican ancestors, sparking her interest in the relationship designers have with the past. Her experience in both Texas and Louisiana has given her a new perspective on how human interactions directly influence the unique social, cultural, and ecological aspects of an environment. Anjelica believes that landscape architects have the ability to influence the world in a way that benefits each specific region by bridging the gap between history and innovative design. She is currently researching the urbanization trends of cities along the U.S.-Mexico border and how to approach spatial programming successfully despite harsh human interference. Her hopes are to continue to be an advocate for the profession through the promotion of cultural remediation and activism in landscape architecture.